Atlendis Labs Celebrates its 2 Year Atlendiversary
Happy Atlendiversary to the Atlendis community!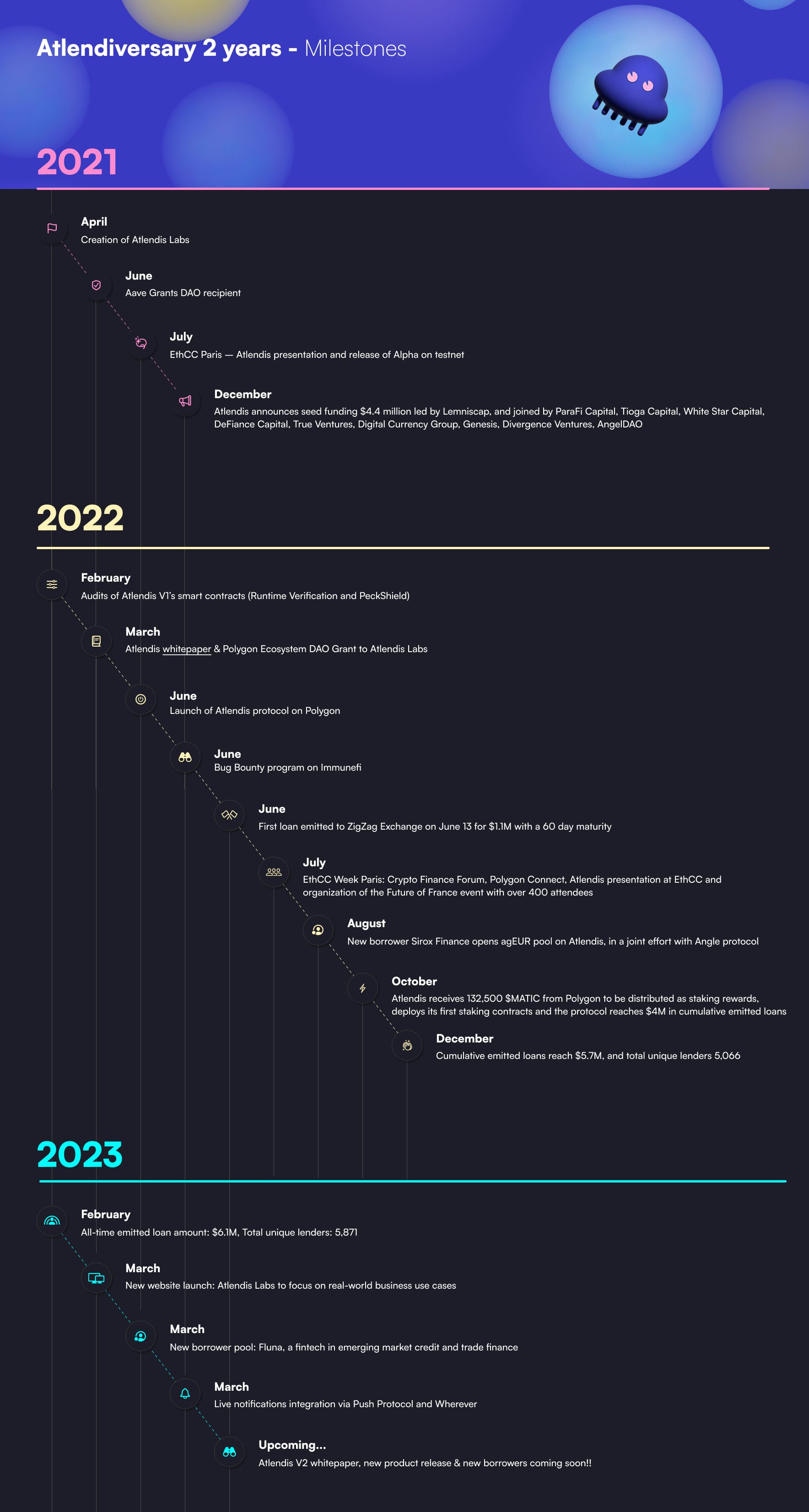 Atlendis Labs Celebrates 2 Years!
It has been an exciting journey since the creation of Atlendis Labs two years ago. This is a great opportunity to take a look back on the highlights and milestones of the Atlendis Labs team and the Atlendis protocol.
In the beginning
How did this adventure get started? After participating in the ETHGlobal MarketMake Hackathon in early 2021 and winning the credit delegation track, the Atlendis Labs Co-Founders who were colleagues at ConsenSys, decided to take the leap and found a new DeFi protocol in April. The Co-Founders combined both their backgrounds and passion for DeFi, financial engineering, data science, and blockchain software development to build Atlendis.
In June 2021, Atlendis Labs secured a grant from Aave Grants DAO. The Atlendis Labs team is grateful for this opportunity as it helped to clarify the project during the preliminary financing phase.
Why is the protocol called Atlendis?
The name "Atlendis" connotes wealth, a sense of immensity, and a limitless array of creative possibilities. These themes are compatible with the values of decentralized finance (DeFi), a field that is continually developing with the aim to empower all users around the globe with access to the advantages of cutting-edge financial services.
Keeping momentum throughout the summer of 2021 and releasing the Alpha
In July the team gave a presentation at EthCC 4 in Paris highlighting the over-collateralization challenges in DeFi to which Atlendis provides a solution. The Alpha made it possible to gather a great deal of insightful information and test user feedback. The Atlendis Labs team is grateful to everyone who participated!
2021 ended on a positive note with the team expanding through key hires, the launch of a new website, and a funding announcement. Leading cryptocurrency venture capital firms Lemniscap, ParaFi Capital, Tioga Capital, White Star Capital, DeFiance Capital, True Ventures, Digital Currency Group, Genesis, Divergence Ventures, AngelDAO and several angel investors participated in the seed fundraising round for Atlendis Labs. The objective of the fundraise was to support R&D, hiring, and carrying out audits as part of Atlendis' growth. The announcement can be found here.
A new year and the Launch of Atlendis protocol V1
Atlendis Labs kicked off 2022 with two audits (by Runtime Verification and PeckShield) and the release of the V1 whitepaper. Efforts were put underway to boost the Atlendis community and social media presence.
In March, Atlendis Labs received a grant from the Polygon Ecosystem Grants DAO to support the launch of the Atlendis protocol on Polygon. Atlendis brings a new range of DeFi options to the Polygon community. Atlendis users can benefit from a seamless DeFi experience thanks to Polygon's scalability, speedy transaction execution times, and inexpensive gas costs.
The Atlendis protocol successfully launched in June! Inaugurating it, a $1.1 million loan with a 60-day term was issued to ZigZag Exchange as the first loan on Atlendis. Dedicated to embracing security best practices, the Atlendis Labs team collaborated with Immunefi to launch a bug bounty program to continually improve the security of the Atlendis protocol's smart contracts.
Working closely with French and European regulatory institutions, lobbies and the French DeFi ecosystem

July was a very busy time for the Atlendis Labs team with EthCC Week, the largest annual gathering of the Ethereum community in Paris.
Charlotte Eli, Co-Founder and Chief Research Officer of Atlendis Labs, took part in a panel discussion alongside alongside leading project developers in the DeFi ecosystem (including Ambre Soubiran and Pablo Veyrat) during the Crypto Finance Forum, organized by ADAN (the French Association for the Development of Crypto-Assets).
Atlendis Labs hosted the Future of France side event in partnership with collaborators from across the French crypto community: Aleph.im, Morpho, Paladin, ADAN, Angle, APWine, Jarvis, Mangrove, ParaSwap, Sismo, and Synaps. Guests had the opportunity to mingle and network with the next generation of French blockchain-native businesses developing decentralized finance solutions in a gorgeous hôtel particulier setting.
In August, Atlendis opened a pool for Sir0x Finance, a fintech company exemplifying the impact potential of decentralized finance (DeFi) over European businesses. Sir0x Finance borrows agEUR on Atlendis, a euro-pegged stablecoin emitted on the Angle protocol, and extends loans to European SMEs.
In October, Atlendis Labs' Co-Founder and Chief Research Officer Charlotte Eli was invited with the ADAN to meet Jean-Noël Barrot, France's Minister of digital transformation and telecommunication. Charlotte Eli also participated in a roundtable discussion organized by the AMF and the ACPR, respectively the French Financial Markets Authority (SEC equivalent) and the Banking Supervisory Authority in France. This roundtable focused on the prospects of decentralized finance and also involved a representative of Société Générale Forge and an Economist and Regulatory Analyst from the OECD.
Launch of staking contracts
Still in October, staking contracts were introduced by Atlendis Labs supporting multiple use-cases to secure the protocol while increasing lenders' potential rewards. The first staking contracts' use case and 132,500 MATIC rewards program were announced by Atlendis Labs and Polygon.
In December, the Atlendis protocol crossed the $5M cumulative repaid loans milestone and the Atlendis protocol surpassed 7,000 unique lenders.
Welcome to 2023
January started with the nomination of Atlendis Labs' co-founder Charlotte Eli in the top 20 crypto personalities in France 🇫🇷 by Cryptoast, a leading French blockchain specific media.
In February, the Atlendis protocol passed the all-time borrowed mark of $6M, and counted more than 5,800 total unique lenders – which places Atlendis at the second rank in the industry.
In March Atlendis Labs unveiled a new website and strategy focus for 2023 to favor real-world business use cases. Simultaneously, Fluna, an emerging market credit and trade finance fintech supporting high growth exporters and SMEs across Africa, joined the protocol and opened a USDC, 90 day maturity pool. Atlendis Labs widened the protocol's sources of credit rating service providers and entrusted Cred Protocol for Fluna's due diligence.
As the team worked on the V2 smart contracts and underwent an audit for a prospective launch of Atlendis' V2 in Q2 2023, the protocol integrated user notifications via Push Protocol and Wherever to deliver live notifications directly to lenders' email, Telegram or Discord accounts.
What's next?
Atlendis V2 whitepaper, new product release and new borrowers coming soon!!
Additional Resources
app.atlendis.io | Atlendis.io | Whitepaper | LinkedIn | Twitter | Intern | Discord | Newsletter | Audit reports 1 and 2 | Bug bounty program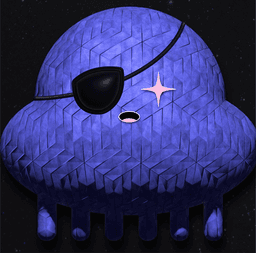 Victoria Calmon
Chief Marketing Officer
Victoria leads Marketing at Atlendis Labs and plays a vital role in the organization's growth. Victoria's responsibilities include positioning, content creation, communication and lead generation. Prior to Atlendis Labs, Victoria worked at ConsenSys and has over 20 years of international experience in blockchain and B2B technologies.